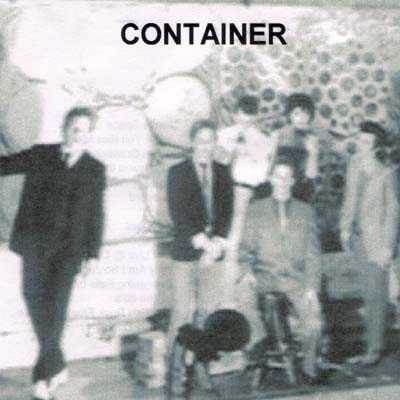 Jamie Dalglish: Lead Vocals and Lyrics
George Elliott: Music Composition, Lead Guitar, Backup Vocals
Mel Bellar:Bass; David Hanson: Drums; Michael Stumm: Keyboards; Jane Hamper: Backup Vocals
In 1979 Jamie Dalglish created "The Container Show" at The Kitchen performance space in New York City. A recording of the music of Container has since been released on a CD. For more information, contact Jamie Dalglish (see "information" link below).

The Village Voice highlighted the then-upcoming performance in the October 24, 1979 issue:
VILLAGE VOICE CHOICE-A Selective Guide to Openings and Special Events - PERFORMANCE:

CONTAINER, the Kitchen, . . " The new wave art wave I quess we'll call it. Painter and video artist Jamie Dalglish, in collaboration with George Elliott, has put together a rock performance group, a five-person band, a 10-year-old singer called Andes, dancers, and a film and video crew- though to what end no one quite knows. Most of SoHo has been carping that music is more interesting than art these days; Dalglish and company have determined to do something about it." October 26&@27 - Kay Larson

download mp3 song: "Lightning Sparks" (2.7 Mbytes)
download mp3 song: "Three Wishes" (1.6 Mbytes)
download mp3 song: "Rebirth" (7.6 Mbytes)
download mp3 song: "Metamorphosis" (4.6 Mbytes)
download mp3 song: "The Red Rock from Cezanne" (2.1 Mbytes)
download mp3 song: "Squishy Ground" (2 Mbytes)


Klaus Nomi in front of Jamie Dalglish's painting "The Door That Gets the Most Light is Black and White"

"Three Wishes," Lyrics by Jamie Dalglish, including a poem from his then young niece Sierra and covered on many albums by Klaus Nomi, including the " Eclipse " CD "The Best of Klaus Nomi " put out by Razor & Tie .
painter - musician - writer - video artist - information